Once again, Joe Levine and Ken Miller will sponsor Summer Tropical Biology Scholarships for several Teachers.
Over the past 9 years we've sponsored the program, we've received hundreds of wonderful essays, and each year selected the best for our scholarships. Our winning teachers (and several others) enjoy an unforgettable two weeks of research and learning with Joe Levine and Barbara Bentley at the Organization for Tropical Studies in Costa Rica.
New: Submit your Scholarship Essay Here.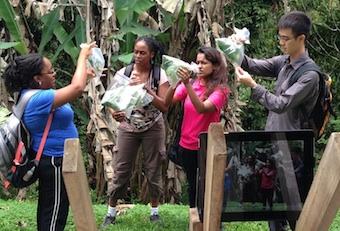 Important Information: If you do not win one of our competitive scholarships for the 2017 course, and if you have at least some other funding, you can still take the course this summer by applying through OTS. (A few partial scholarships may be available.)
• Check for information on the Inquiry in Rainforests course page on the OTS website.
2017 Course Schedule:
July 6: Arrive SAN JOSÉ
July 7: course begins
July 20: course ends
July 21: Depart SAN JOSÉ