Welcome to our Texas Biology web site
We've put together this site to support students and teachers using our new Texas Biology program, published by Pearson Education. Each of the book's 30 chapters has its own web page (Click Here for a Table of Contents), with links to web resources related to chapter topics. Special web pages will also help students understand and solve the Mysteries that introduce each chapter of the textbooks.
You may be familiar with our older "Dragonfly Book" from the 2004 science adoption. Our new book, featuring a Snowy Egret on the cover, is a completely new text and digital program. We've included new science, new ways of promoting inquiry and student understanding, and a novel illustration program with groundbreaking Visual Summaries and Visual Analogies. Our program also fulfills 100% of the TEKS standards for Biology.
Click Here to order a personal copy of the Texas Edition.
We hope you'll take the time to explore our work, which is based on our bestselling national edition. If you have any questions, don't hesitate to call or write!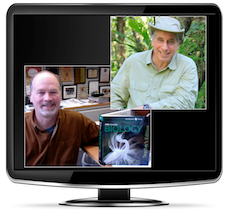 Click Here for a Video of Ken & Joe
explaining our new Texas Program


email: kenneth_miller@brown.edu
phone: 401-863-3410